Caucasian Rhinoplasty Dallas
Caucasian rhinoplasty for the white individual is perhaps such a broad term that it actually lacks meaning like
ethnic rhinoplasty
. Nevertheless, white noses share certain common features even though these features may not exist in every white nose and can overlap with many ethnic nose features as well. Those commonly appearing features that define Caucasian rhinoplasty will be discussed herein and are most commonly similar to
Middle Eastern rhinoplasty
in that the most common type of rhinoplasty for both of these rhinoplasty categories is reductive rhinoplasty.
Caucasian Rhinoplasty Procedure
The white individual that most commonly seeks nose surgery is desiring the nose to be smaller in appearance. Usually, there is a moderate to large-sized nasal hump appearance along with a broad, bifid, and/or bulbous appearing nasal tip that may also be overprojected (protruding too far outward), downturned, or otherwise malrotated (over or underrotated nasal tip). Reductive rhinoplasty involves reducing the nasal hump and refining the nasal-tip appearance. Dr. Lam is very careful to structurally preserve the nose so that it functions well after a nose job. You are encouraged to read the sections of this website dedicated to the nasal tip and the nasal bridge to better understand how Dr. Lam's techniques preserve and enhance nasal function over the older techniques that truly compromised nasal function and could lead to long-term problems.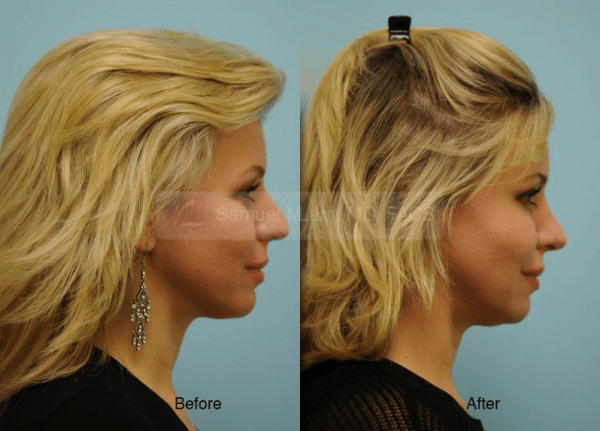 With thicker cartilages and thinner skin in many Caucasian patients, the goal is to reshape the underlying nasal cartilages so that the beauty of the new structure can show through the skin magnificently. However, not all Caucasian noses have thick cartilages and thin skin. In those individuals who have thick skin and thinner cartilages, techniques may overlap with those described in the
ethnic rhinoplasty
section of this website. In addition, today many individuals are biracial or multiracial and share many features from different ethnicities. Unfortunately, the term Caucasian rhinoplasty can be overly simplistic and may lack proper meaning. However, the general concept here is that rhinoplasty for the white nose is most often intended to reduce an overly large nose to make it proportional to the rest of the face. As Dr. Lam always says, "A good nose is one that you never notice and one that simply makes the eyes more attractive." You are encouraged to review other sections of this website that may also be applicable to you like revision rhinoplasty, aging nose rhinoplasty, etc.
Your Caucasian Rhinoplasty will be performed by Dr. Lam' surgery center located in Plano, TX.
I'd been desiring a rhinoplasty and searched and attended consultations with several doctors. Dr. Lam was very open and honest about surgery. My experience with Dr. Lam and his staff has been truly amazing. They are friendly, attentive, and give great attention to detail. I'm very happy with my results.
Videos:
For more Rhinoplasty testimonial videos,
click here
For more Rhinoplasty recovery video diaries,
click here
Photos:
For more before-and-after Caucasian Rhinoplasty photos,
click here
For additional before-and-after Rhinoplasty photos,
click here
For before-and-after Revision/Corrective Rhinoplasty photos,
click here